IMPORTANT! Prior to purchasing Magic Interlacer Lite, you must download the Full Working Version first (Click "Try" button above). This programs will run on only one computer and require a "Hardware-Fingerprint" number in order to operate. Once you have installed the program and run it, you will be presented with a Reminder screen. In this screen is your "Hardware-Fingerprint" number. Write this number down. You will need it when you purchase the software.

(This "Reminder" will not be seen if you have purchased the program and entered your "key".)
Next, Click on the "Buy" button (above) or on the "Reminder" screen from the program. After selecting the software and going to check-out, you will be presented with an "information entry screen". This is where you will need the "Hardware-Fingerprint" number.
Once you're ready to purchase Magic Interlacer Lite, add it to your shopping cart and proceed to "checkout". Complete your personal information and submit the order form. You will then be contacted by ProMagic to confirm payment.
Once approved, you will receive your "Key" via email. Start the program and select "Enter Key" button.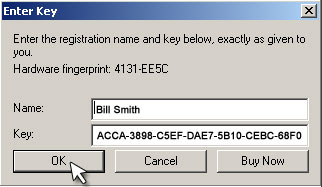 Enter your name and "Key". Click OK. You will get one more screen telling you that your "key" is valid. That's all there is to it!