Custom Stereograms


"STEREOGRAM" is a generic term for a seemingly random two-dimensional image that, when properly viewed transforms itself into an astonishing three-dimensional image. Roots of this art form date back to 1838, but today's computer technology and creative minds have taken it to new heights. Today stereograms have been widely accepted as a revolutionary communication, marketing, and promotional tool and are available in a wide variety of formats, from postcards... to posters. New Vision Technology is pleased to offer you this state-of-the-art medium.
The Hidden Image

This is the three-dimensional image you will see when the stereogram is properly viewed (parallel viewing). It is best to provide us with a rough sketch of what you envision this to be. It's very important to keep in mind that stereograms are fairly vague in detail, therefore keep your hidden image as simple, bold and large as possible. The hidden image is nothing more than a "3-D silhouette" of the object or scene you want to depict. If the object or scene cannot be easily recognized as a 2-D silhouette... chances are that it will not be easily recognized by most people as a stereogram.
The Pattern

The complexity of the hidden image will actually determine the best type of pattern to be used. In most cases a graphical "swirly or dotty" type pattern works best. We will design and produce the appropriate pattern required and will submit color laser proofs for your approval and/or selection. Many times clients prefer that we use a recognizable pattern such as their logo, company name, or small images of product, icons, etc. All of this is possible in full 24 bit, 16 million color resolution. Should you have a specific pattern in mind we would need to receive an example of the pattern or art work for estimating purposes and also require the same examples as an electronic file, print or transparency for production purposes.
Logos, Text & Type

These are perhaps the most popular, and yet the most difficult items to portray as a hidden image within a stereogram. Although we have had success with these items it is very important to minimize the number of letters involved, and make the objects as large and bold as possible. A good example of this is the "Y&R Stereogram" shown in the Stereogram Gallery. Another option in lieu of showing your logo as a hidden image is to add it to the stereogram as a wallpaper object.
Repeating Wallpaper Objects

To add "another dimension" to a stereogram it is possible to overlay a variety of clip art images on top of the finished stereogram. Depending upon the placement and spacing of these images additional levels of depth can be produced. This is a very effective way of adding art, logos, text and type to the image that will not be distorted had it been incorporated into the pattern. Another benefit is that the viewer can clearly see and identify these objects without actually fusing the image. A good example of this is in the Heart.jpg image shown in the Stereogram Gallery.
Image Size

We have produced stereograms from the size of stamps... to posters. The size of the stereogram is very important in determining how it is to be produced and plays a major role in determining the production costs. Most images are rendered at 250 to 300 dpi and are designed to be printed at a specific size. Reducing or enlarging the finished stereogram will effect its ease of viewability. All stereograms produced by us should not be enlarged or reduced more than 10%.
Output

In most cases we will provide you with a 4"x5" positive transparency. Occasionally we have clients that prefer an electronic file. Please specify type of file, computer platform, and removable media type required. Color laser jet prints are also provided with each order.
Turn-Around

In most cases NVT can produce your custom stereogram and provide you will the required output within two weeks of receiving the required materials, required approvals and 50% deposit. Rush service is also available at an additional cost.
New Vision Technology has developed their own proprietary software for producing stereograms. This allows us to continually evolve and develop new techniques and processes. You'll see from the examples below that we are on the cutting edge of this technology, and are considered to be a leading producer of this exciting form of visual communication.
---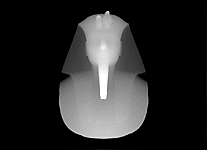 Tut.gif - 270,459 bytes - 800 x 480 pixels

The hidden image of King Tut is mapped with a pattern of hieroglyphics. This is a good example of pattern construction, mapping and placement. I'm sure you'll be quite surprised to see his facial features magically appear
---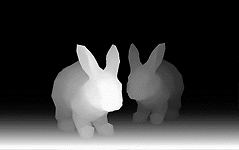 Bunny.gif - 255,503 bytes - 800 x 575 pixels

Although produced "just for fun", this image serves as a good example of using a "natural" type pattern. Originally a photograph of a ground cover, the pattern image was manipulated to serve as a "seamless" pattern. Note how the placement of the little red flowers resemble the eyes of the bunnies.
---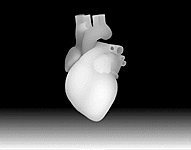 Heart.jpg - 156,422 bytes - 667 x 500 pixels

Produced for a major medical company, the hidden human heart image serves as a primary symbol, while additional wallpaper objects (not shown in the grayscale) support the "Corporate Image" depicted on other pieces of literature, catalogs and brochures representing the company.
---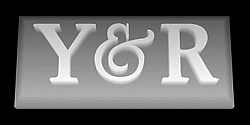 YR.gif - 241,502 bytes - 800 x 548 pixels

A good example of using a large and bold logo as the hidden image while being mapped with a pattern that represents a version of the regional logo.