Determining the Pitch
Now that we have a print of a series of eleven slightly different pitchcheck strips, we need to determine which strip will match our lens.
Lay the print on a flat surface, and lay the lens on top of the print. If the lens will not lay flat, then set a heavy piece of flat glass on top of the lens.
Align the lens to the print by looking at the vertical stripes on the right side of the image.
By examining the lines on the right side of the print, you can determine when the lens is perfectly aligned to the print.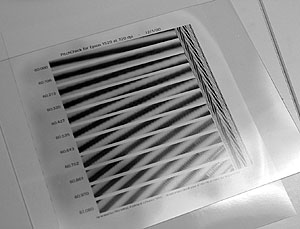 This is not properly aligned...
Nor is this..
Now we're aligned.
Once properly aligned it becomes apparent that many of these pitch strips are not going to work. They are banded and it is obvious that these will be eliminated.
Actually there will be only one, or perhaps two lines that will work.
WE ARE LOOKING FOR THE LINE THAT "FLASHES" FROM BLACK TO WHITE!
Dragging the movie control of the above Quicktime movie, left and right, will simulate what you would see with this pitch check file by moving your head left and right. Notice that I find it easier to view these with one eye closed. Move very slowly and pay very close attention to both the left and right sides of the image. We need to find one strip that flashes from black to white entirely... all at once. It doesn't roll... it doesn't crawl... it flashes or flips. Although these all turn white and all turn black at one moment or another... they don't all flash.
Only the fifth line from the top does what we want... this would be our pitch... for this lens... on this printer... on this material... today!
It may all change tomorrow.